Class 3 (Barnowls) 2023 - 2024
Mrs Gibson
"Believe in the light while you have the light, so that you may become
children of light."
Ready;Respectful;Resilient
Welcome to class 3
We are the Barn Owls, Year 3 and 4
Our staff
Mrs Gibson is our class teacher and Mrs Critchley and Mrs Baker will be supporting our learning.
Below is some useful information relating to our year in Barn owls and your child's learning. However, if you have any queries or questions please don't hesitate to contact me
senco@kingsley-st-johns.cheshire.sch.uk.
Follow what we've been up to on our school twitter with our hashtag #Barnowls
General information
Please tie up long hair.

Please have a bottle of water at school every day. This can be refilled as necessary.

Please bring a small school bag, reading book and reading record every day.

Please return your homework book on or before Wednesday for marking. Homework will be sent out on a Friday.

All school uniform needs to be named but particularly jumpers and cardigans.
PE is timetabled for Wednesday and will be outside whenever possible. Please add a jumper, trousers and gloves as we will still go outside and sun hats and suncream if needed.
Autumn Term 2023
Welcome back Barn Owls!
Our Christian values for this term are hope,reverence and peace
In Jesus' eyes, peace was so important that he thought that those who strove for peace were blessed. In the Sermon on the Mount, he said, 'Blessed are the peacemakers, for they will be called children of God' (Matthew 5.9). Here, we see the hope that one day, there will be peace because of those who use peace in their lives and spread it to others.
Our roles and responsibilities
Meet our school councillors,sports councillors and eco-group who were all democratically voted in by their peers and our Beacon group who support our school in developing Christian distinctiveness and promote our school Christian Values.
"So he shepherded them according to the integrity of his heart, And guided them with his skillful hands."
Psalms 78:72
Our class novel for this half-term has been voted for by our Barn Owls, we have chosen ,'An Alien in the Jam Factory' by Chrissie Sains.
English
As writers and readers, we will be using the text 'Seal Surfer' by Michael Foreman to write recounts and letters. For autumn 2 we will be using 'The Winter's Child' by Angela McAllister to write stories and fiction.
Our daily routine will include spelling and grammar,handwriting and guided reading sessions. Daily reading at home continues to be essential at KS2 and we would ask that you read regularly at home with your child to develop a love of reading,to develop new vocabulary and strengthen writing skills.Whilst listening to your child,ask questions about what has happened so far, characters thoughts and motives and make accurate predictions based on the text. As well as our guided reading and class reading sessions we will endeavour to hear all our Barn Owls read at least once a week. Our Barnowls use our class padlet to share what they are reading,make recommendations and develop our love of reading
Spelling
We will continue to use Pathways to Spell as part of our english lessons to develop spelling strategies and learn spelling rules ,as well as the Y3/4 common exception words.
Maths
As mathematicians,the children will learn through concrete experiences moving onto pictorial and abstract methods as their confidence builds.They will also be expected to use their learning to reason about maths and solve problems.
During the Autumn term we will focus on number and place value, addition and subtraction,multiplication and division and area.In June ,Y4 will take the statutory MTC which tests their knowledge of times tables 2-12. For more information see the files section below.
Science
As scientists,we aim to develop our knowledge and understanding,scientific skills and measuring and recording abilities. We will be investigating the topic of forces and magnets: exploring how objects move on different surfaces,observing how magnets attract and repel each other and a variety of materials and identifying magnetic materials. Our focus scientists ,John McAdam and Isaac Newton will help us answer: Can we make magnetic materials non-magnetic? Are bigger magnets stronger? How can we move magnets?
In autumn 2, we will explore the topic of animals including humans, describing the simple functions of the basic parts of the digestive system in humans,identifying the different types of teeth in humans and their simple functions. constructing and interpreting a variety of food chains and identifying producers, predators and prey.Our focus scientists,Ibn Sina will help us answer: What do our bodies do with the food we eat? What are the names for all the organs involved in the digestive system?
History and Geography
As historians and geographers,we will be studying the Ancient Greeks,a study of Greek life and achievements and their influence on the western world, their legacy and asking : How can we possibly know so much about the Ancient Greeks who lived over 2,500 years ago? We will visit the World Museum and Walker Gallery in Liverpool to explore storytelling with the Ancient Greeks.
RE
Our RE continues to use the Diocese of Chester planning and the Understanding Christianity scheme of work. This term we will look at the theme of God.How do Christians use symbols to explain what God is like? How do Christians use words, prayers, songs or hymns to describe God as 'three in one'? What did Jesus teach about God?
In autumn 2 we will look at different world religions with a focus on Islam and find out what Muslims say God is like.As we near Christmas we will look at Incarnation, the trinity, and the Christmas story
Our whole school and class roundabout worships alongside our class reflection areas and partnerships with our local churches allow the children opportunities to explore our Christian values and develop their own thoughts and reflections.
Proverbs 27:19
As water reflects a face, so a man's heart reflects the man.
PE
Our PE will concentrate on dance and gymnastics We will look at how we can develop our skills and improve ourselves as gymnasts as well as thinking about what makes a good team. Although PE will continue to be on a Wednesday please ensure your child has a complete,named kit in school at all times.
Art and Design
As artists, we will expore sculpture through Ancient Greek sculpture and pottery and create our own Grecian urns. We will visit the Walker Art Gallery to look at Charles Le Brun's epic painting 'Atalanta and Meleager',and explore storytelling telling and Greek myths and legends through art. In autumn 2 we will enhance our knowledge of sculpture by looking at and comparing sculpters Henry Moore and Barbara Hepworth.
As designers, we will be looking at construction and making display boxes for our Greek museum.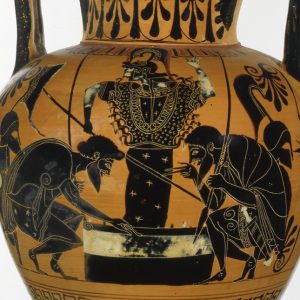 PHSE
In PHSE, we will be looking at healthy me and linking to our school ethos of love,learn,aspire,achieve. We will understand how exercise effects our body and why our heart and lungs are important organs,understand how complex our body is and how to take care of it and find out how medicines can be harmful-what do we know about drugs?
In autumn 2, we will explore Global community ,knowing the UN rights of a child and how these are not met for some children and use Picture News and Newsround to explore global issues.
We will also have focused time on our British Values: democracy, rule of law, individual liberty, mutual respect and tolerance for those with different faiths and beliefs
Music
As musicians, we will be developing notation and enjoying improvisation and looking at a variety of music styles including jazz, baroque,film music and funk
MFL
As linguists ,we will continue to have Madame Carter on Wednesday morning to deliver our French lessons.
Computing
As digital citizens, we will look at computing systems and networks- connecting computers and
creating media- animation. We will look at online safety- information literacy
Forest School
Forest school will continue on a Friday with each class taking alternate sessions. A rota will come out in September. Please make sure your child has appropriate clothing for the weather. Long trousers continue to be essential and hopefully sun hats and sun cream!
Homework
Homework will be sent out on Friday to be returned on or before the following Wednesday. We expect each piece to take about 20 minutes. Please come and see us if there are any difficulties or write a note on the piece of work.
English – Focusing on basic skills and new techniques used within our writing
Math - Focusing on skills and methods learnt in our maths lessons.
Comprehension tasks
Reading – 5-10 minutes each night, please add your recommendations and books you have enjoyed to our class padlet.
Times tables practise- see website list in files below
Possible trips & visitors
In the autumn term we will visit Walker Art Gallery and Liverpool World Museum and Mr Ayre will support our learning about the digestive system and teeth with a dentist visit.
Files to Download
Class 3 (Barnowls): News items
There are no News items to display
Class 3 (Barnowls): Blog items
There are no blog items to display
Class 3 (Barnowls): Gallery items
Class 3 (Barnowls): Calendar items
There are no Calendar items to display